In 1986, the founding year of the Galerie Lieve Hemel, I was a student of political and social sciences at the University of Amsterdam. I wasn't that sure about my future; the last thing I could imagine was being an art dealer for the rest of my life. My first wife attended art school before I married her. After the birth of our son she did many artistic things, and also started a unique boutique in which art played a dominant role.
---
"I realized that to merely select artists to represent based on the fact that their work sold frequently was not totally satisfying"
---
In addition to paintings, there were jewelry, ceramics, and very special textile dolls that my wife made. These bizarre dolls sparked a lot of publicity. Eventually the gallery began to require all of my attention, which caused my studies to suffer. Life soon turned into a tragedy because of my wife's mental illness. I continued to run the gallery alone, never completing my studies.
It was within a year that contemporary realism had caught my attention. One thing that influenced me was a unique exhibition of the works of Hieronymus Bosch (1450-1516), one of the most well known old masters of the Netherlands. Through the years I exhibited a variety of realistic works of nearly one hundred and fifty artists. After twenty years, I decided to focus on a smaller group of artists that I viewed as the most talented, which allowed me to promote them in a way that was not possible before with the larger group. I also realized that to merely select artists to represent based on the fact that their work sold frequently was not totally satisfying. I decided that it was more satisfying to handle artists' work that I found to be the best work. Eventually, I reduced the number of artists to about fifteen of the strongest artists in the Netherlands.
I owe part of my development as an art dealer to exploring the American market. I learned a lot from Alexander F. Milliken, with whom I worked with from 1985 to 1990. This experience also affected many of the artists I handled at the time, causing them to ponder the idea of exhibiting abroad. I was aware of this influence, and had my own considerations about keeping my artists in the gallery instead of sending them away. Many of them have complicated painting techniques, which limits the numbers of paintings they produce. The average solo exhibition features about twenty paintings, and takes place every two to three years. If my artists exhibited elsewhere they would only be able to produce a body of work for an exhibit in my gallery every five years. This would not aid in building a reputation.
Nevertheless, I still wonder if the artists I represent would prefer to exhibit abroad, too? In the past, I have exhibited my artists in exhibitions in Basle, Athens, several cities in the States, and Tokyo.
It's possible to create a market in these locations, however, due to the limited number of works available, I find they can be promoted more successfully at a single location.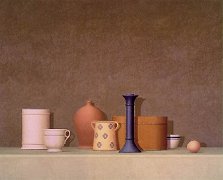 William Bailey's "Strada Bianca"
Oil on Canvas, 1990
Also, the artists appreciate being able to see their paintings, and to meet the collectors. It is interesting to note that all the artists I represent are Dutch, which enables me to communicate with them at a very deep level, building a strong relationship with them. It is my belief that different languages can be a source of insurmountable miscommunication.
Ironically, none of the artists I represent are actually from Amsterdam. They all live somewhere else in the country, and don't feel the urgency to live in the area that is supposed to be "happening." They choose to just watch from a distance in their own world, following their passions, and do not need to wonder if they are contributing to a new trend.
Part of the advantage of my new location in the Spiegelstreet quarter (a concentration of antiques shops and galleries in and round the Nieuwe Spiegelstraat) is the proximity of the Rijks and Van Gogh Museums. Although only a very small proportion of museum visitor's buy art, there are still hundreds of thousands of visitors each year that are dedicated art lovers. These people come from all over the world, and purchase a substantial part of my collection. Since I moved to the Nieuwe Spiegelstraat area, an international following has been possible. There is one disadvantage though; Dutch clients are able to respond faster, whereas many clients from abroad are too late.
During my first visit to New York in 1984, it was a relief to notice that a strict distinction between realist art and other art didn't exist, unlike what I had been accustomed to in the Netherlands. Looking back I feel proud that only four other colleagues and myself, resisted the attitude that realism wasn't art at all. That it exists just for the sake of technique; it lacks brushwork, spontaneity, and is created solely for the consumer's pleasure. One of the characteristics of avant-garde is the risk of the new, and the daring. I find it daring to be exclusively dedicated to realism.
Currently, the part of the art market that is leaning towards avant-garde is complaining about the number of sales compared to the eighties. At the same time, one of the leading art magazines is brimming with solidly built still lifes. But who am I to judge these ongoing waves? In my opinion, the Dutch art market is more of a dream than a reality, with only fifty out of more than seven hundred galleries able to support themselves.
In this sense, there is a real market to be developed! In another sense, a market does exist. There are a growing number of companies involved in building corporate collections. Several private museums have opened in the past decade, which has given the average citizen more exposure to art. The Dutch museums tend to spend a great part of their budgets on art from the United States.

This often leads to resistance from artists, the public, and art critics, due to the fact that museum's budgets aren't very big. Once again, I'm not interested in the majority of Dutch and American art – I only like certain kinds of art! The art created by de Kooning, Warhol, and Twombly isn't my interest, however, I love and greatly respect the work of William Bailey and Steve Hawley.
---
"During my thirty-one years as an art dealer I have learned to respect all art as long as it doesn't harm anyone"
---
During my thirty-one years as an art dealer I have learned to respect all art as long as it doesn't harm anyone. If just one person likes a particular work of art, it has the right to exist and be respected. When I was young man I remember being misguided and attempting to prove that there was something wrong with abstract art. Now I am very content with my new perspective on art.
There are nearly one hundred and fifty galleries in Amsterdam. They exhibit a variety of art, from super-realism to naive paintings, from Indian to Aboriginal art, from Cobra to installations, from zero to super subtle ceramics, from feminist to gay art, and from tattoos to body art. In the end, I realize that western art as I once viewed it in Houston, Texas, has never been shown here.
Here in Amsterdam there are admirers for every kind of art made. It is amazing to observe how people that favor one style of art are oblivious to other popular styles, and at the same time are not very aware of the people that are interested in these styles. Oftentimes, this even goes to the extreme that a connoisseur of one kind of realism will be unaware of other kinds of realist connoisseurs. However, the Dutch love beautiful art, and hate high prices!
The Galerie Lieve Hemel has been successful for the last thirty-one years because of the qualities that my artist's possess. Also, as my wife recently mentioned, the relationship I have cultivated with the artists I have represented over the years has significantly contributed to the gallery's success, too! In the end, I never did what the art world expected me to do, nor was I ever familiar with any market-oriented policy. I have done, and continue to do many things that could be considered impractical and superfluous. However, after more than thirty years in business, the outcome is that it apparently works!