A personal
on-line exhibit of
Spiritual Art
by KRGilman
*All rights reserved. Copyright KRGilman 2003. This gallery includes items of tasteful, artistic nudity. Parental Guidance is suggested. Contact Artist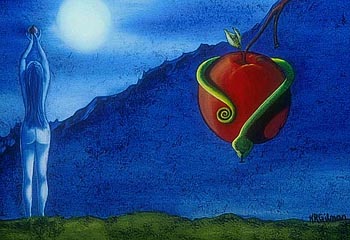 "Eve's Path"/oil on canvas/2000 - Click on image to enter.
Site Updated ~ 2/3/2006
Art Related Links click here.
*GREAT GIFT IDEAS*
Perfect for the Holidays! Click the links below to order unique Fairy and Angel art products, KRGilman & AngelArt 2004 Calenders greeting cards, posters, holiday tree ornaments and more!