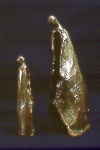 I use my sculpture as a non-vocal tool, as a means to express a mood or specific thought and pass it on to others, allowing them to see within my imagination and to view my perceptions of the world in which we live.
In my compositions I lean toward working on a vertical format over the horizontal, because of the sense of monumentality that I can achieve working vertical rather than horizontal. The content of my work is based on my belief that humans are both the strongest and most vulnerable animals in existence.
I hold a B.F.A in sculpture from the University of Toledo. Along with my private and public commission works I have extensive training and knowledge in both small and monumental bronze works.