---
---
All About Me!

Welcome to my home page. A brief biography-I was born in The Netherlands on 21-9-1972, then 18 years later I started to travel extensively through Europe, eventually living in Kitzbuehel for three winters as a ski instructor. In the off seasons I ventured further and further afield, eventually ending up here in NZ, where I have lived for almost two years.
Ah, every egomaniacs dream, the chance to further my 15 minutes of fame. Alas you won't read it, so I shan't bother.

---
Interests



Painting
My primary Love in life is art, especially painting. This has flourished in the last few years as I have had several exhibitions both here and in Europe, and have had financial success selling several pieces. Most of my work is based on my travels and experiences, through such places as Asia and the Middle East. I hope to continue with my art and eventually open a gallery, exhibiting both my own works along with those of others.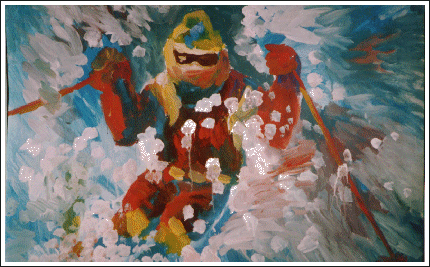 This is a painting I made several years ago while living in Austria and working as a ski instructor.
Travelling
My passion to travel has been fuelled by a desire to explore new and interesting cultures, and also to capture them in paintings and on photographs. This urge to travel has taken me through most of Europe, The Middle East,The Indian Subcontinent, Asia, Australasia and parts of the US. Pictured below is Petra, Jordan, one of the best places I have ever visited.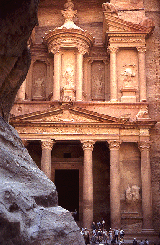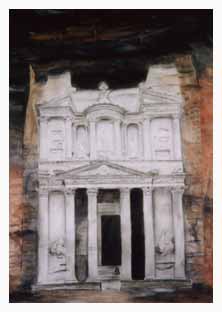 A truly Inspiring Place
Languages
I enjoy learning foreign tongues-mastering five languages (almost!) At my school in The Hague, we already had a wide variety of languages taught, such as German, English, French, and Dutch naturally. After this I studied Italian in the beautiful city of Florence.
Cats
I adore cats, especially my three fat white cats. Unfortunately they are still in Holland with my family. Their names are Minou, Mini, and Mauwtje. Naturally they all love cheese as they are real dutch cats.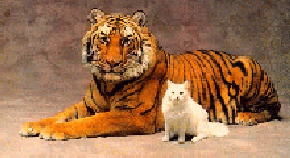 Mauwtje met groote vriend

---
Email me at escha_b@hotmail.com if you have any comments about this page. I love to get Email. Thanks.

---

Us a few years ago in Saqara, Egypt.

---