GEOFF THORNLEY GALLERY

Welcome to my Gallery. THE SITE IS UNDERGOING A FEW CHANGES AND UPDATES. SORRY FOR ANY INCONVENIENCE. PLEASE E-MAIL FOR MORE DETAILS. All the images displayed are original paintings in acrylic on canvas board. They are all sold without mounts or frames,unless otherwise stated. For more information about availability of any of the paintings or prints,rates and conditions regarding commissions,or for a more detailed portfolio,please e-mail with full address and I will post as soon as possible. Thankyou.
Prints are high quality digital repro on silk paper. A3 sheet,Image size 9.25 inches x 13. A4 sheet,Image size 6.25 inches x 8.5.
E-mail for prices,shipping extra.
---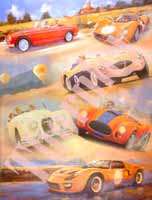 ---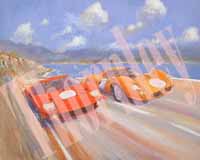 Ford v Ferrari 20 x 16 Original for sale. Print and licensing rights also available.
---

Tortoise and hare. 20 x 24 (Original painting for sale) Print and licensing rights available.
---
All images are copyright to the artist G.Thornley. No unauthorised use without the express written permission of the artist.
---